Photo: www.craftcreatecook.com
Birthday time is here again! So you have the invites, the perfect location chosen, awesome weather requested, recruited a few adult "volunteers" to help, the best cake ever, a big piñata filled with sugary treats and now what about the kids birthday party snacks? Well no more thinking to "Tell me a snack served at a kid birthday". We got you. Thinking of avoiding a few more sugary treats we have you covered with the healthy birthday party snacks! One challenge all of us experience at our birthday celebrations (okay so maybe we have few more than one challenge) but the one that can really make it or break it is how to keep the kids busy.
Our healthy snack ideas are not only a good choice to balance out the sugary craziness but they can be great activities for the kids to do together. Here is our list of 5 birthday party snack ideas minus most of the sugary rush but including lots of the fun!
See Also: Father's Day is coming up! Here are 30 poems and quotes with images that you can write in your father's day card
Photo: www.craftcreatecook.com
1. Earth Day Butterfly
Snacks for a birthday party couldn't be more fun with this beautiful edible creation! Make it easy and have all of the veggies washed and prepped ahead of time. For older children's parties - get them in on the action with slicing and dicing up the pre-prepped veggies. Don't forget a quick hand wash and then let the kids choose their favorite veggies to make their butterfly. A few other veggie ideas you can add to your assortment; corn, snow peas, celery, squash and tomatoes.
This one is sure to be social media worthy so don't forget to take the group shot with all of your guests holding their special butterfly!
Photo: www.livestrong.com
2. Fruit Kabobs
These easy birthday party snacks are sure to be the hit of the birthday party! So you're playing the games, kids are having a great time; running around with all kinds of energy but there comes a time for just a little quieter activity (ok so maybe not for them but for you).
Once your birthday celebrants are ready to sit and relax for a bit this is the perfect fun engaging activity. Lay out a paper plate for each child with a couple of toothpicks or skewers works great. The fruit assortment you share is up to you - your garden is the limit or your nearest farm market. Another easy component of this fun activity; cheese cubes can be purchased already cut up at many grocery stores now.
See Also: These snacks go great with these kids birthday party entertainment ideas! Take a look!
Photo: www.popsugar.com
3. Hummus Crudites Appetizers
Healthy birthday snacks are one thing, but healthy birthday snacks that kids get to make and TASTE great - now we're talking! A fun way to incorporate these cute crudites into your birthday festivities is have the kids take a tour of your garden or the local community garden. Let them pick out a few of their veggies for a true kids fun farm-to-table experience. Solicit (or bribe) a few parent volunteers to help the kids cut up a few of their favorite veggies with a plastic knife and you are hosting the next great cooking with kids show.
See Also: Hummus Crudites Appetizers Recipe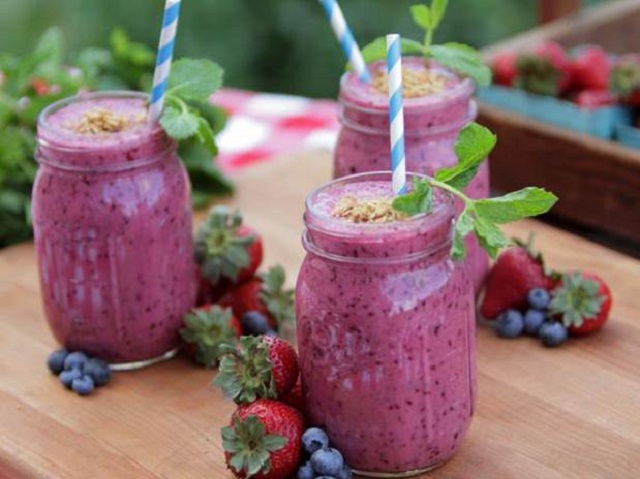 Photo: www.foodnetwork.com
4. Berry Smoothie
Birthday party fun at any age works up a great thirst! This easy birthday party snack can be made ahead (maybe make ahead an adult version for the after party; you may need it). Kids will love enjoying this refreshing smoothie during all of the fun activities at your party. As you serve them the refreshing smoothie snack it's a perfect time for present opening and encourage a toast to the birthday child. Kids love toasting and singing so another fun time to break out into the happy birthday song. Encourage your child ahead of time that this would be a great time to say their thanks to their guests.
Strawberry and Farm Fresh Blueberry Smoothie Recipe
Photo: momtomomnutrition.com
5. Watermelon Pops
Watermelon is a such an easy birthday snack, it really is something that can be enjoyed more often; not just at birthdays. Your best plan for this one is to make ahead and have ready to serve after a crazy watermelon race.
Divide the kids into two teams and have them do a relay by pushing a whole watermelon a short distance across the finish to the next person in line. For your finish line keep it simple - a piece of yarn in the hard or even a lawn chair as a marker. As the laughter continues and you start noticing a few tired children; out to the rescue with a healthy birthday party snack; delicious watermelon pops treat!
See Also: Save hours planning your kids birthday this year with these party planning apps and software options