St. Patrick's Day is a fun holiday filled with leprechauns, rainbows, shamrocks, pots of gold, and more. That means that craft ideas can be found almost anywhere. I bet you have wondered, "How do I make a pot of gold?"
The leprechaun's pot of gold at the end of the rainbow is probably one of the most common St. Patrick's Day crafts and this one single idea has dozens of variations. Here is one variation and five other craft ideas to get your creative juices flowing and make sure the kids have a memorable St. Patrick's Day in the process.
Photo: funforepkids.com
Pot of Gold
This cute little pot of gold allows the kids to get their hands a little messy. Starting with a rainbow handprint, then adding a pot of gold and the tin foil wrappers from candy money is a fairly easy craft if you don't mind the paint. If you want to make it even easier, you can find a free printable pot of gold so you don't have to cut it out yourself. Then you can simply add the handprint and the gold to the pot.
Photo: sassydealz.com
Leprechaun Hat
Green and black construction paper, scissors, glue, and gold sequins are all you need to make a leprechaun hat for each kid. If you want to let the kids wear the hats, you can add a piece of string on the bottom to help hold the hat on their heads.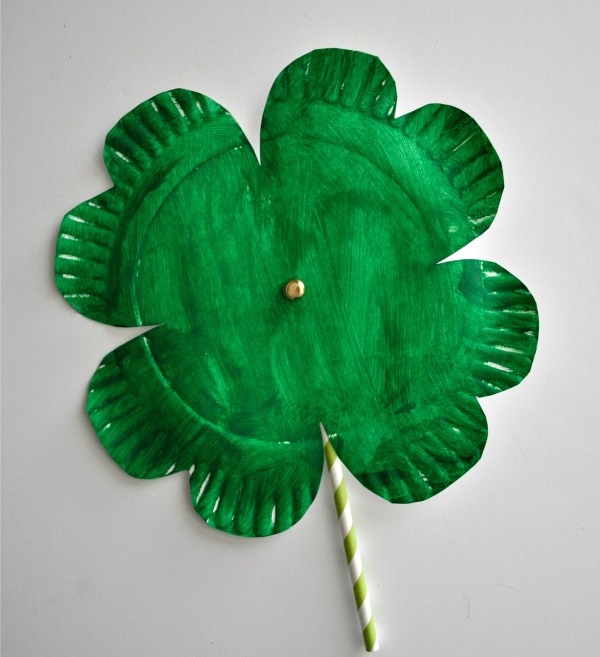 Photo: iheartcraftythings.com
Shamrock Twirler
These twirlers, also known as pinwheels, are fun to make and fun to play with after they are made. Let the kids color or paint a paper plate green. Then cut the edges to look like a four-leaf clover and attach it to a long paper straw with a brass fastener
Photo: www.julieseatsandtreats.com
Shamrock Noodle Necklace
This noodle necklace is great for preschool crafts to celebrate the green holiday. To make it easier for the kids, you can have the shamrocks pre-cut with holes already punched in the top. You can also buy green noodles, so you don't have to color the noodles. Then let the kids do their thing and you can help each child tie their necklace when done.
See Also: 7 Simple St. Patrick's Day Snacks Your Kids Will Love
Photo: craftymorning.com
3D Rainbow with Pot of Gold
For this craft, you will need your rainbow paper. Strips of each color of paper, a black pot, some gold pieces, and a cloud. If you want to make things extra 3D, you can use cotton balls to make the clouds instead of paper.
Photo: www.siparent.com
Handprint Leprechaun Card
This is another chance for the kids to get their hands dirty and a great way to make personalized St. Patrick's Day cards. Use each child's handprint as the head of the leprechaun. The fingers are the beard, then add a hat and a face. For more festive fun, you can add stickers and personalized messages on the inside of the card or on the back.
These are just a few of the many craft ideas for this colorful golden, and green, holiday. Whether you are just looking for some fun crafts for the kids or you want to teach them a little bit of history, there at lots to choose from. Now go get your paper plates, rainbow paper, and gold coins to get started with the St. Patrick's Day crafts with the kids.