When thinking of ideas about how to get the kids up and at 'em at a party, there are a couple suggestions that can do just that with a fun twist. These concepts can be changed to fit whatever theme or celebration you're planning for. They can also be used as a last minute addition for a fun outdoor party if needed, as there aren't any many materials required to assemble these games. Whether the guests are toddlers or grandparents, anyone can participate for an all-included thrill and no one will be left out.
Scavenger Hunt
Let the scavenger hunt begin! With this hands-on outdoor birthday party game and thought provoking adventure, that can either be played solo or in a group of people. This works great for kids that aren't old enough to read yet but can still play by just putting the picture of the item they have to find on the map, and this is also a bit of a learning experience while still being fun. It's a great game for the end of the party because you can place the goodie bag items all over the place for them to look for them and keep them as they're on their way out.
Try out these invitation makers to get your friends and family to your outdoor party
Water Balloon Ross
Everyone needs to cool off every now and then and with this outside birthday party game it will be just what people need on a hot and sunny day. This game can get pretty intense rather quickly so it might be a good idea to ask each person to bring a change of clothes. The only materials needed are a couple water balloons and some eager participants. You can either divide into pairs of two or a huge circle of all the players, there is no wrong way to team up. There should be about a 3 foot distance between each person, and that space will eventually get wider and wider, the more they place. While the balloon starts being thrown from player to player, it will eventually pop on someone and that means their out of the game, and when that happens tell the remaining competitors to move a foot away from each other, then continually repeat that process until there is a one winner. Nevertheless, everyone's a winner because they all got to play together and do something interactive. This activity is also great because it will help kids with coordination, concentration, and everyone will have an awesome time participating.
Potato Sack Race
When it comes to an outdoor birthday party game idea, the potato sack race is an absolute classic. A real potato sack might be hard to come by now a days but an old pillow will suffice as long as you don't mind it getting dirty. When starting the game make sure the sack fits right around their waist so noone has any accidents and hurt themselves. An example of sizing is that if it's a smaller kid a child's pillowcase will work just fine, and for an adult more of a king size case. The rules are that they can't let the case hang lower than their waist and both legs must be inside, and whoever crosses the finish line first wins. It's that simple! This is really great for those kids that have some extra energy and never stand still, they will laugh and have lots of fun with this one.
Making your own invitations doesn't need to be difficult. Follow these easy DIY instructions to start creating.
Obstacle Course
An obstacle course doesn't need anything special to get the kids excited for it. They aren't expecting a full out arena in the backyard. All they need is some chalk, a sidewalk, and a finish line for them to get ready to roll. There is no age limit when it comes to running around and doing different activities in a fast pace, and that's the great thing about this outside game for kids birthday parties. The only supplies needed are some sticks of chalk which can be either white or wild colors and a flat pavement will get the job done. Start by making a starting line with the chalk on the ground where you want the course to begin. Draw circles on the ground that are a good distance away from each other so that it's not one after the other and make the kids too exhausted right away. Around the perimeter of the circle write down different tasks for them to complete, some examples include have a dance party, do jumping jacks, and spin around 2 times in a row. You can also add some break sections in there so they'll have a moment to catch their breath, a couple ideas for that would be make a wish or give yourself a pat on the back. After all those thing are complete, you'll be ready to set off the whistle and watch the runner speed away.
Tic Tac Toe Frisbee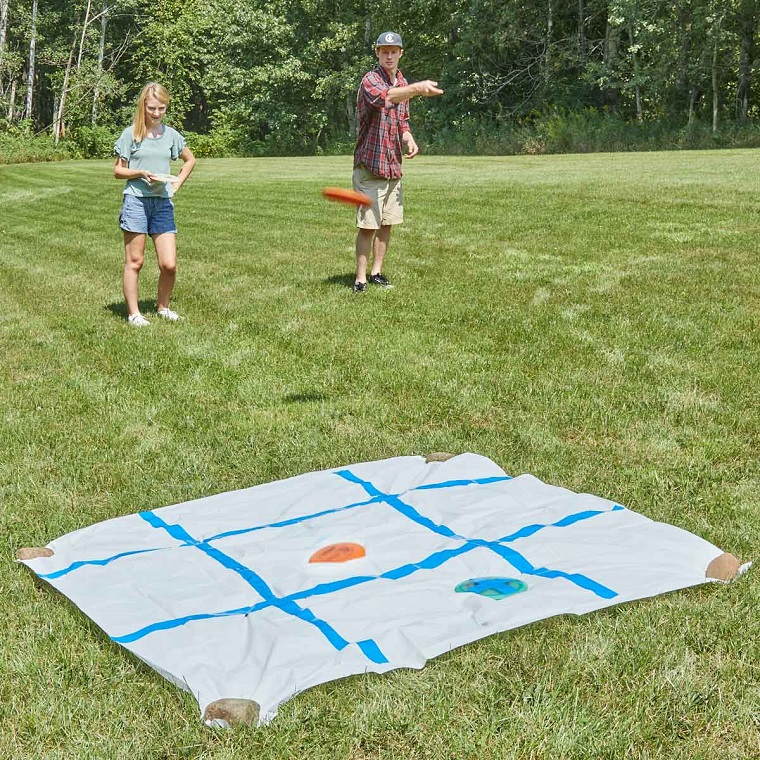 When you first think of tic tac toe, your mind might not automatically think of an outside party game for kids, but with a couple modifications and components it can be taken to a whole new level of fun. This isn't just the run of the mill game of tic tac toe you play with pen and paper. This version uses a combination of physical activity, coordination, and precision. With one wrong throw, you can give the other player a leg up for a spot you didn't want to use. The essentials you will need to put together for this activity, include six or more frisbees for each player, blue masking tape, and one white shower curtain. Using the blue masking tape, place two vertical lines on the shower curtain and do the same thing horizontally so when you're all done it looks like a tic tac toe game board. You can also use the tape to mark the frisbees by placing X's or O's on the back of the disk so that confusion can be avoided between teams. The players stands a certain distance from the board which varies between difficulty. For example., if the gap is wider, the harder it becomes to throw but the closer you get it becomes easier. The rules of the game are exactly as the original, but if the disk lands off the board or if the spot it landed on is occupied the player may throw again. This game may be easy on the eyes but once you get your hands on it you'll be surprised at how challenging it can get.
Save time getting ready for your outdoor birthday party using these 7 time saving party planning apps