St Patrick's Day is around the corner. If you have kids running around the house, I bet you are asking, "What are some easy to make St Patrick's Day snacks?" You don't have time for complicated! You want to spend time with the kids making sure they don't pinch each other for not wearing green. To help you out, here is a list of 7 fun St Patrick's Day treats that are fun and delicious for the whole family.
Photo: pixabay.com
#1 - Clover Cookies
Putting a lucky green twist on the traditional frosted sugar cookie. These sweet, sugar-coated treats are easy to make and the kids will get a kick out of cutting out the cookies and frosting them. This recipe can be as simple or as complicated as you choose to make it. You can do everything from scratch with a basic pressed sugar cookie recipe and homemade frosting. Or, you can take the easy route and buy the refrigerated cookie dough from your local supermarket and add a tub of white frosting with food coloring to make this a no-fuss activity for you and the kids.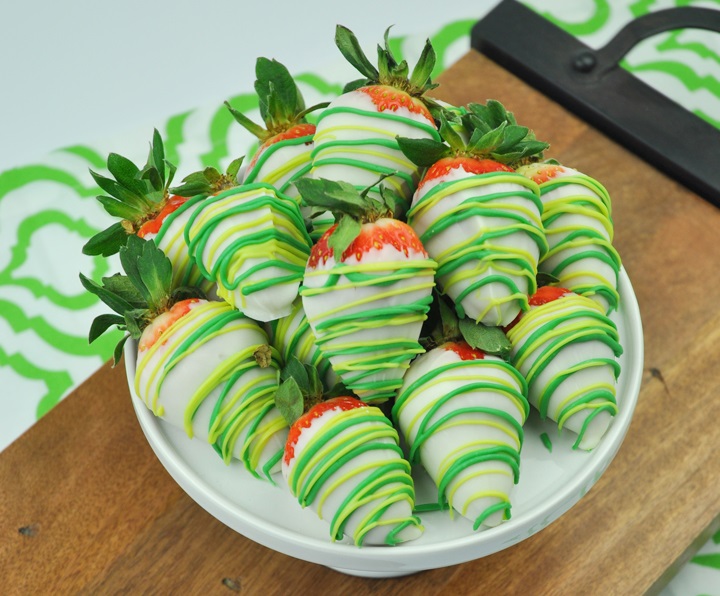 Photo: vickybarone.com
#2 - Green Chocolate Covered Strawberries
Your St Paddy's Day doesn't have to be filled with unhealthy snacks. Green chocolate fondue or green chocolate covered strawberries are a sweet treat with less regret. The natural tart taste of strawberries mixed with the mouthwatering taste of chocolate will even satisfy the kids' sweet tooth. You don't have to tell them that you are secretly trying to slip in a serving of fruit in the process.
Photo: www.creativewhip.com
#3 -Shamrock Shake
This mint chocolate St Patrick's Day treat was made popular by McDonald's in 1970. Over the years, people have developed their own recipes with healthier alternatives, added ingredients, and more. Finding a simple recipe is super easy. There is also the other option. If you don't have time to make St Patrick's Day treats for your kids, you can always swing by the many places that now offer Shamrock Shakes to grab one made just for you, just make sure you get one for the kids too.
Photo: www.julieseatsandtreats.com
#4 - Lucky Leprechaun Mix
This recipe takes less than 15 minutes to throw together. With as many ingredients as you'd like and no baking required, this treat is perfect for St Patrick's Day on the run. Your basic ingredients are Chex and Lucky Charms Cereals as well as confectioner's sugar. You can add nuts, dried fruit, and other things if you wish. To put them over the top, green food coloring can be added to the sugary mix and you can serve them in gold colored cupcake papers as "pots of gold."
See Also: How to put together a fabulous dessert table your little one's birthday party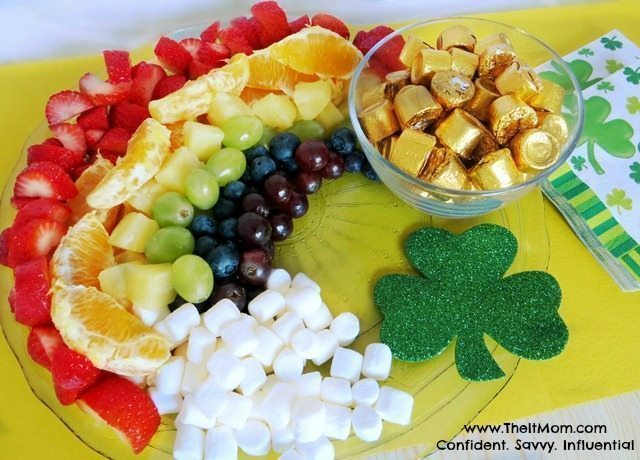 Photo: www.theitmom.com
#5 - Rainbow Fruit Platter with Pot of Gold
For a beautiful party platter or just a healthy snack for you and the kids, cut up a bunch a different colored fruit and line them up like a rainbow. Add some fluffy marshmallow clouds to one end and a leprechaun's pot of gold at the other. Super easy, healthy, and beautiful!
Photo: www.allcreated.com
#6 - Lucky Charm Bars
This is probably the easiest recipe on the whole list! It only takes two ingredients! What? All you need is marshmallow fluffy and Lucky Charm cereal. If you want to make it a little more fun, you can add some green food coloring to the marshmallow fluff. The kids can enjoy mixing the ingredients with their hands and mashing them into different shapes or onto a greased cookie sheet. If you want to add some creamy goodness, take two bars and add cream filling between them.
Photo: www.everylastbite.com
#7 - Shepard's Pie
If you are looking for a more traditional St Patrick's Day meal, give Shepard's Pie a try. This hearty meat and veggie filled pie is covered with potatoes and baked to meld all the flavors together. It will make your mouth water just thinking about it, filling the bellies of adults and kids both. Why not sit down to a traditional Irish meal for St. Patrick's Day 2018?
Whether you prefer sweet and cream or meaty goodness, there are many St Paddy's Day treats to choose from. Run to the store and get what you need to have a holiday filled with treats. And may the luck of the Irish always be with you.